Hey guys!!!
Yes...my blog is called The Vintage Apple, which translates to The Old Apple.
Let me assure you, I am not old!!!!
I love vintage things and I am a teacher, so I guess that is where the title of my blog came from!
When Ruthie asked me to guest post for her, I immediately said YES!!! Not just because she is a fellow Texan, but because I love her to death! She is one of my favorite bloggers and I just love reading about her beautiful wedding and looking at all of her awesome recipes!
Speaking of weddings...
I'm getting married myself!
I'm getting pretty nervous, but very excited at the same time!
Ruthie gave me some pretty good advice on my little blog not too long ago about weddings...you should check it out! Click
here
to read all about it!
I totally wish my blog had some sort of theme or main idea, but to tell you the truth, I blog about mostly fun random stuff!
Here are some of the fun, random things I do!!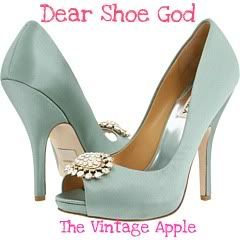 "Dear Shoe God" is a random feature where I post a picture of my dream shoes in hopes that maybe one day I can afford them! There is no specific day that I post this feature...just whenever a see a cute pair of shoes that I dream of owning (which is often)!




Every Wednesday, I host a link-up called:
If you love
Pinterest
like me, you should definitely come by my blog on Wednesdays and see what the fuss is all about! Click
here
to see what I'm talking about!
Sometimes, I like to blog about this handsome fella:
His name is Ace! He is my beagle fur-child!
I like to host giveaways and generally just have a good time on The Vintage Apple. Basically, I try to post things that will put a smile on your face!!
That's pretty much it!
Come by and say hello!!!
Have a great weekend!!!