Before Ford was even born I knew I wanted to make his baby food when the time came. My sister made Embry's and the cost savings is incredible! Not only did the money aspect motivate me but the fact that I could control exactly what I was feeding my baby. The biggest piece of advice I can give moms about to start solids is to use the website Wholesome Baby Food. Honestly I've never used any other website (or even Google) with my baby food questions.
Our doctor recommended we wait until 6 months to start solids but by 5 months and 1 week, Ford was ready. Food adds a whole other dimension to the craziness that is a baby but it is FUN. I love watching him try new foods, explore with his hands, and get to enjoy this stage with him.
We started with avocado, sweet potato, banana, pear, green beans, and oatmeal. I use oatmeal sparingly, pretty much only to chunk up thin purees and we skipped rice cereal all together because of its lack of nutritional value (and it makes babies constipated.
Since I have a good stock of purees frozen, we haven't added too many new foods from the chart below but look forward to broadening his pallet!
Actually making the food is incredibly easy! I have a Cuisinart dual blender/food processor, nothing fancy, and it does the trick. Here is the process I use:
1. Peel the fruit/veggie if necessary.
2. Cut up the fruit/veggie if necessary. I cut my bananas/pears/sweet potatoes into big cubes to make the steaming easier.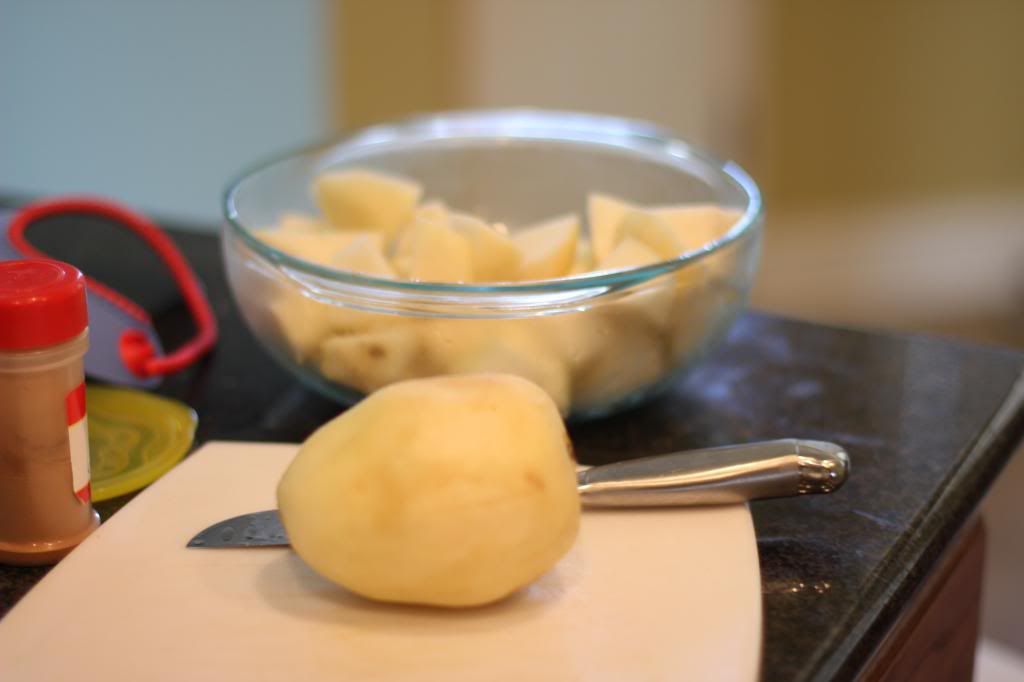 3. With the exception of bananas, steam the food. I use a glass Pyrex casserole dish with a glass lid, add water to the bottom, and microwave. *Keep the water you steam in unless you plan on using breastmilk/formula. I stopped pumping so we use steamed water to thin purees (I rarely do) which is perfectly fine because the water retains nutrients.
4. Dump in the food processor and pulse away. You want to make sure you don't have huge chunks or else baby will choke but I do try to keep my purees chunkier.
5. Scoop into ice trays and into the freezer.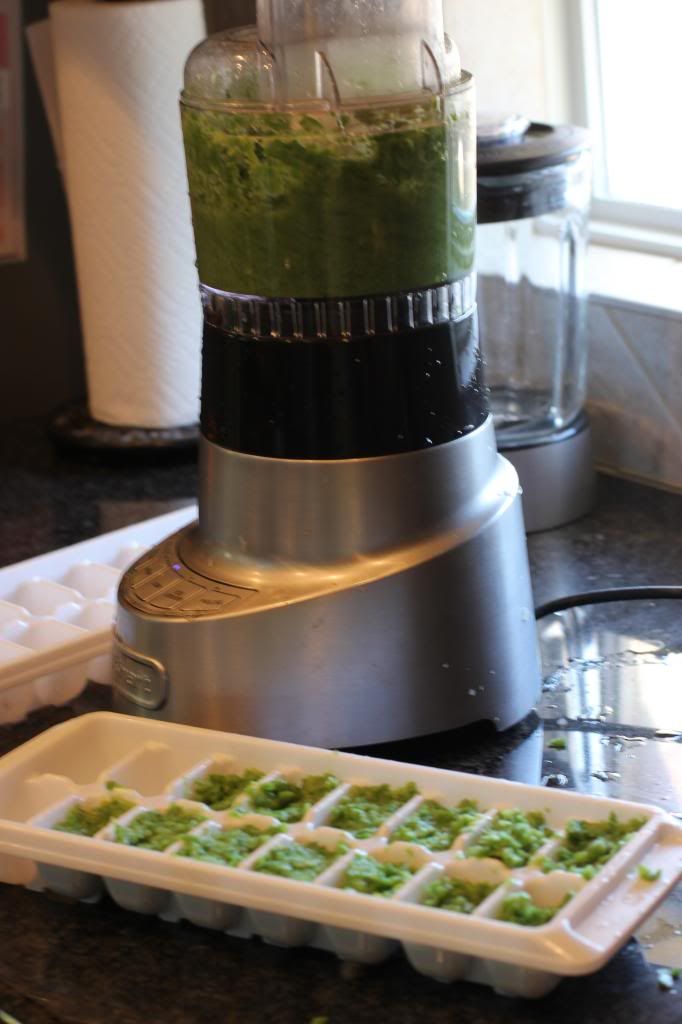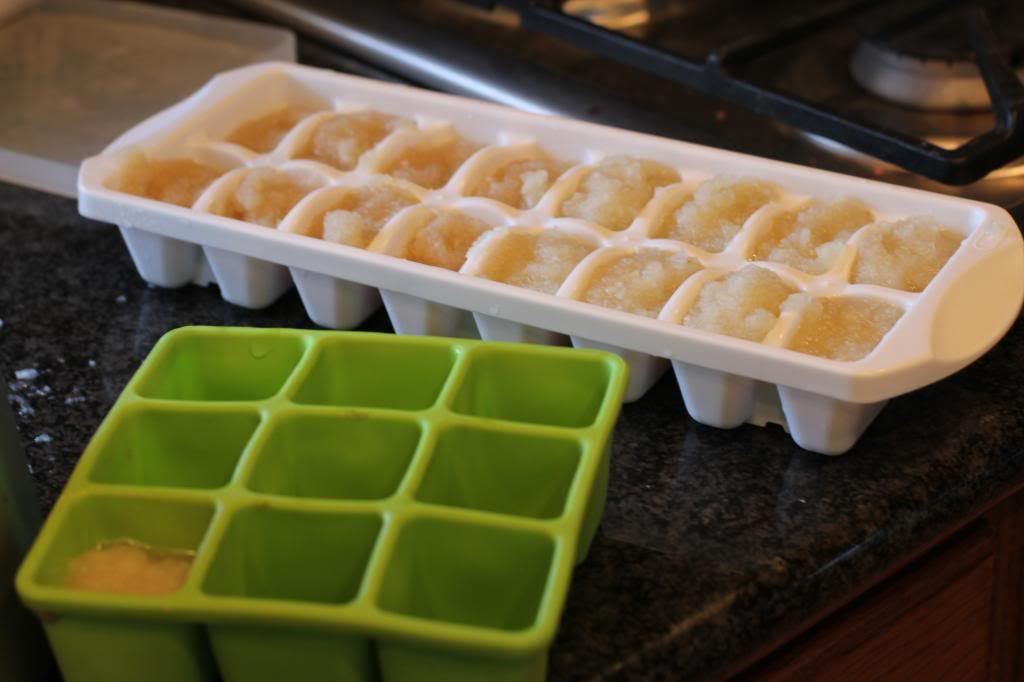 6. Pop into freezer safe bags labeled with the food name and date. Wholesome Baby Food gives you timelines that show how long certain foods can stay in the freezer.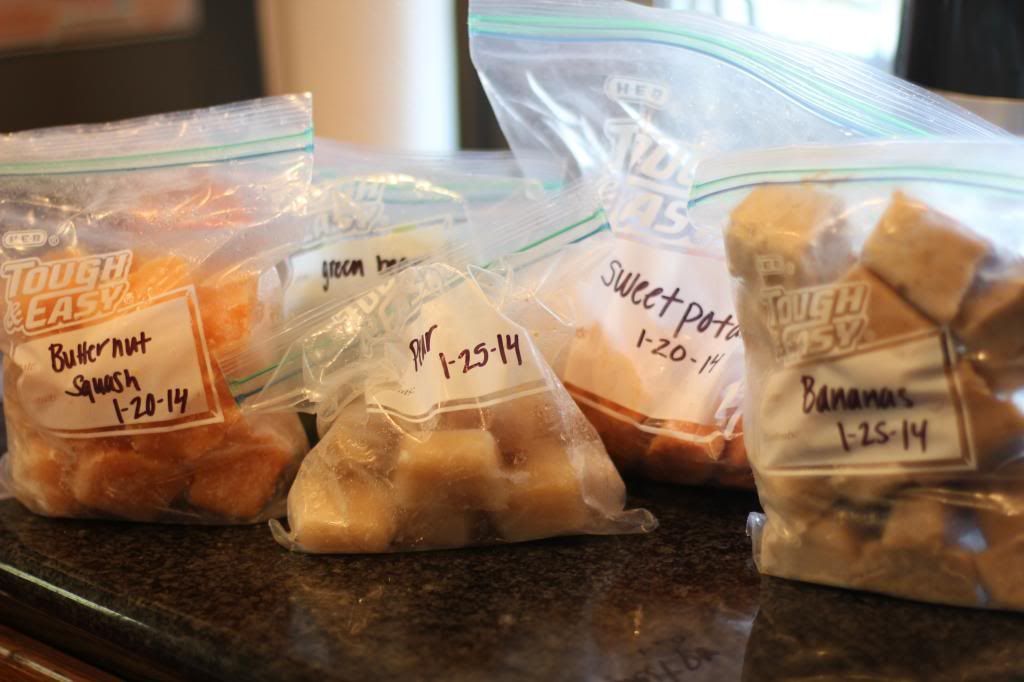 My hungry little helper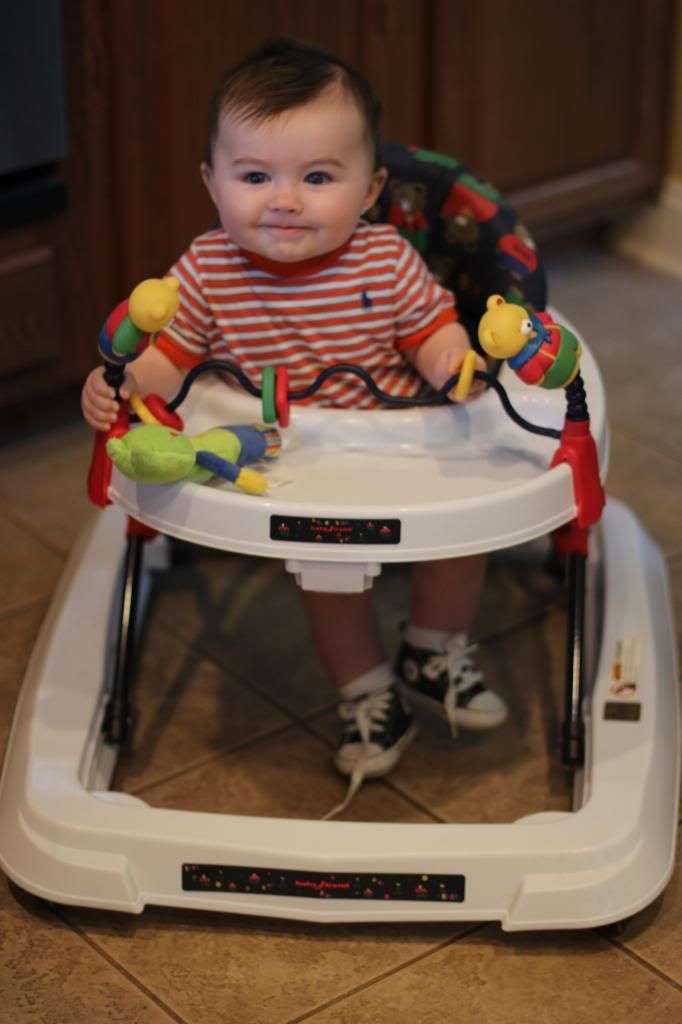 I wanted to share some tips I've picked up along the way to help make the process easier.
You don't have to use breast milk. The first batch of sweet potatoes I made I used about 16oz of breast milk to thin it out and if I was bottle feeding Ford I would have cried a little bit. The potatoes really soaked up the milk and I had to use additional water. Ford gets enough milk from the tap so water is just fine.

If you do use breastmilk, use fresh milk, not frozen. Breastmilk cannot be frozen, thawed, and frozen again.

If you use store bought baby food for traveling, be sure to bring oatmeal to chunk it up. My doctor told me that if you start with thin foods, your baby will prefer thin foods. And if you start with chunkier foods, they prefer that. I wanted Ford to be used to chunks so it made the transition to finger food easier.

Don't buy the fancy baby food makers. They only steam and puree SUCH a small amount so it doesn't seem to save you time. And ice trays work PERFECTLY fine. No need to purchase the $8 silicon holder, although I do have 1 I was given as a gift. Also, you only feed babies purees for a few months (my doc says by 9 months babies can eat all adult food) so you'll have to store a bulky appliance.

Each ice cube of food is about 1 oz

Check Wholesome Baby Food to see what foods you can buy frozen. I use frozen green beans which really simplifies things!

Ford loves avocado and there is no need to use a food processor to make it. Mash it up, add some water if needed, and you're done!

Spice it up!!! I try everything Ford eats and I was grossed out by how bland his oatmeal was. After doing some research on Wholesome Baby Food, I read that cinnamon, garlic, and a few others are baby food safe. I use garlic powder (not garlic salt) for savory things, and cinnamon for sweet things.

Don't be afraid to mix things up. Ford wasn't a fan of green beans alone but when I mix them with butternut squash or sweet potatoes, he downs them. We also mix banana with avocado, and pretty much any fruit with oatmeal.

Each night I try to think of the next day and what I want to feed Ford. I use small Gladware containers and grab his breakfast and lunch purees from the freezer to thaw overnight. He doesn't have a temperature preference but I try not to feed him ice cold food so a few seconds in the microwave does the trick.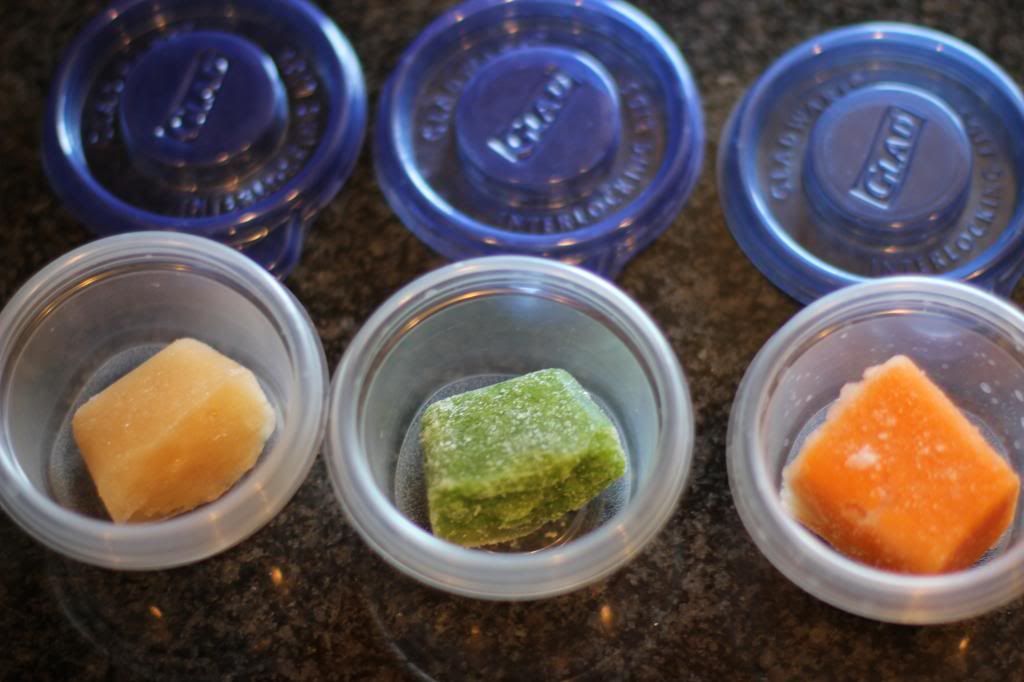 TMI but watch your baby's poops. I was feeding Ford pears at dinner and he would wake up in the night with poop so I switched to feeding him bananas in the evening and pears in the morning.

Instead of peeling and coring apples, I feed Ford unsweetened applesauce and he loves it. Easy peasy.

Get this bib. Trust me.
My doctor said to continue purees for another 2 months and then we can introduce more finger foods (grilled fish, shredded chicken, cottage cheese) so
I'd love to know what tips other mamas have for making baby food!