Oh man does this recipe remind me of my childhood. My mom would always make a huge batch of Crispix mix around the holidays and we'd sneak handfuls while she was making it. I also remember eating just the Crispix and picking out the peanuts...must be a kid thing? Now that I'm the grown up, this is the perfect treat to make for neighbors and friends and munch on at home. It's not only a Christmas treat but could be made year round! I had my mom come help me with my first batch since there are some involved steps but I think I got the hang of it. This stuff is so addictive y'all.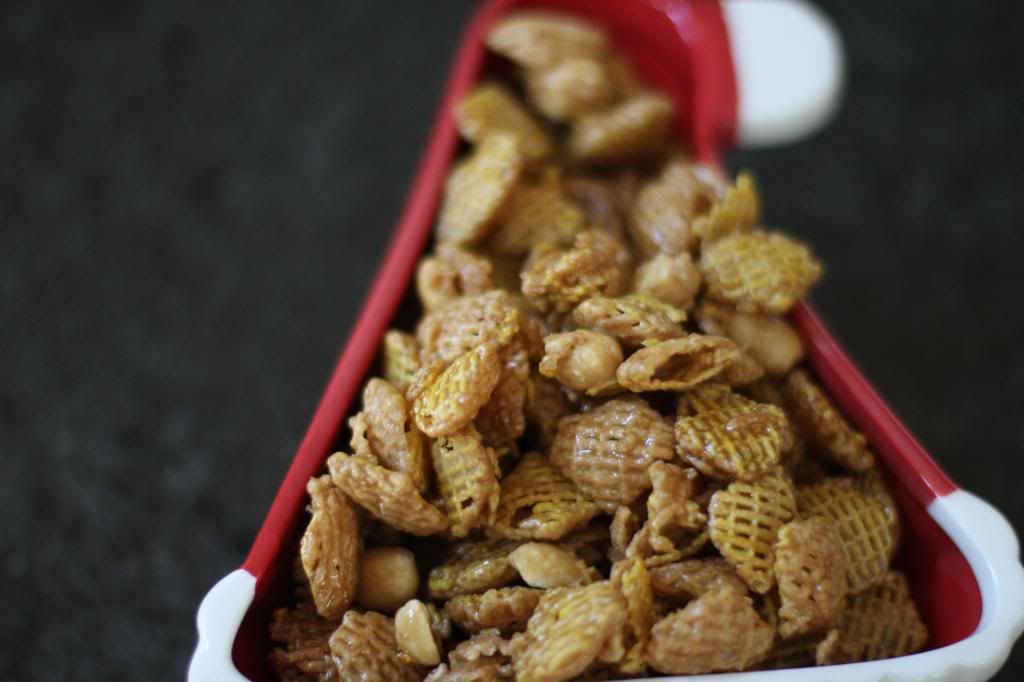 Ingredients
1 box Crispix cereal
1-1.5 cups dry roasted peanuts
1/2 cup Karo light corn syrup
2 cups brown sugar
2 sticks butter
1/2 tsp baking soda
Supplies
Giant bowl (if you don't have a giant bowl, try to find your two biggest mixing bowls)
Wax paper
2 brown paper bags
Rubber spatulas
1. Melt Karo, brown sugar, and butter in a pot over medium heat. Stir until it boils and let boil 30 seconds. My mom says the key to making the caramel sauce is stirring so keep a close eye on it.
2. Remove from heat and add baking soda, the caramel will lighten up in color and become a lot thicker
3. Pour your Crispix cereal and peanuts into your giant bowl or split among 2 bowls
4. Pour the caramel mixture over the cereal/peanut mixture and use the rubber spatulas to coat the cereal. Pretend like you are tossing a salad and get each piece coated real good.
5. Put the coated cereal in a brown paper bag and fold the top over
6. Lay the other brown paper bag in your microwave to protect the bottom
7. Put the cereal bag into the microwave and microwave for 4 minutes, stopping every 1 minute to shake the bag and mix the cereal up
8. Spread the mixture out on a flat surface lined with wax paper and let sit and cool for an hour
9. Using a spoon or spatula or even your hands, break up the pieces
10. ENJOY!!!!!